adidas has teamed up with  Lucas Film  to push their Star Wars Originals collection. They've just released this two minute advert which features Snoop Dogg, Daft Punk, David Beckham, Jay Baruchel, Ciara, and Noel Gallagher in the Mos Eisley Cantina Scene from Star Wars. Snoop Dogg reaching for his Light Sabre is definitely one thing I thought I'd never see!  The advert doesn't feature any trainers, just a few instances of the Adidas logo on T-shirts. See the video over the fold.
YouTube: http://www.youtube.com/watch?v=3Zd_khk6zXo
Star Wars.com: http://www.starwars.com/vault/collecting/adidas_cantina/index.html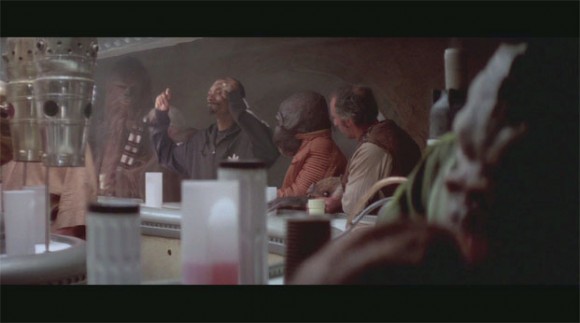 To seamlessly integrate new shots of David Beckham, Snoop Dogg and company into original Star Wars footage, a set was created to replicate the original dimensions of that bar featured in the film. This enabled the performers to work realistically with the props, make the correct eye-lines and so on. Where they were required to interact with Star Wars characters, stand-ins were used to ensure a realistic performance. The color palettes and lighting conditions of the new shots were also carefully chosen so they could be easily blended with the original footage. To bring the new ad up to date, television screens featuring a football match together with various pieces of football memorabilia were also created and added to the bar scene.